Home
Stork Yard Sign Rental in Oakland, Livingston, Wayne, and Washtenaw Counties
Birth Announcement Yard Sign Rental
Imagine the surprise on the mom's face when she sees this adorable sign when she is back from the hospital. Welcome your new baby and the mom home with our classic 6ft tall Stork Signs for your yard.
Each of our big stork signs comes in blue or pink and has a personalized bundle that has the baby's details like the name, date of birth, weight, and height. Our stork sign can be rented for birth announcements for up to one week. At the end of the rental period, when the stork sign is picked up, the personalized bundle is left behind as a keepsake for the family to enjoy.
Signs we Offer
We offer Stork Signs for Birth Announcements, Grandparent Stork Signs, Baby Shower Stork Signs, Sip & See Stork Signs, Sibling Star Signs, Message Stars, Cat Signs, and Dog Bone Signs for your front lawn.
Baby Showers and Sip & Sees
Stork Sign Rental for Events
Whether you are celebrating before the arrival of your baby with a baby shower or after with a Sip & See event, our adorable stork signs are a perfect way to take your event to another level.
A Stork Sign in your yard with the message, 'The shower is here", is a perfect way to mark the party house and also welcome guests to your event. We offer stork signs for your yard for up to 2-day events.
Stork Signs for Grandparents
Grandparents' Stork Signs
Becoming a grandparent is a big milestone in one's life. Our stork sign is a great way to mark this milestone and announce to friends and family that you have been promoted to a bigger role. It is also a great way to celebrate the arrival of your new grandbaby. Whether it's a grandson or a granddaughter, we have got you covered with a choice of pink or blue storks.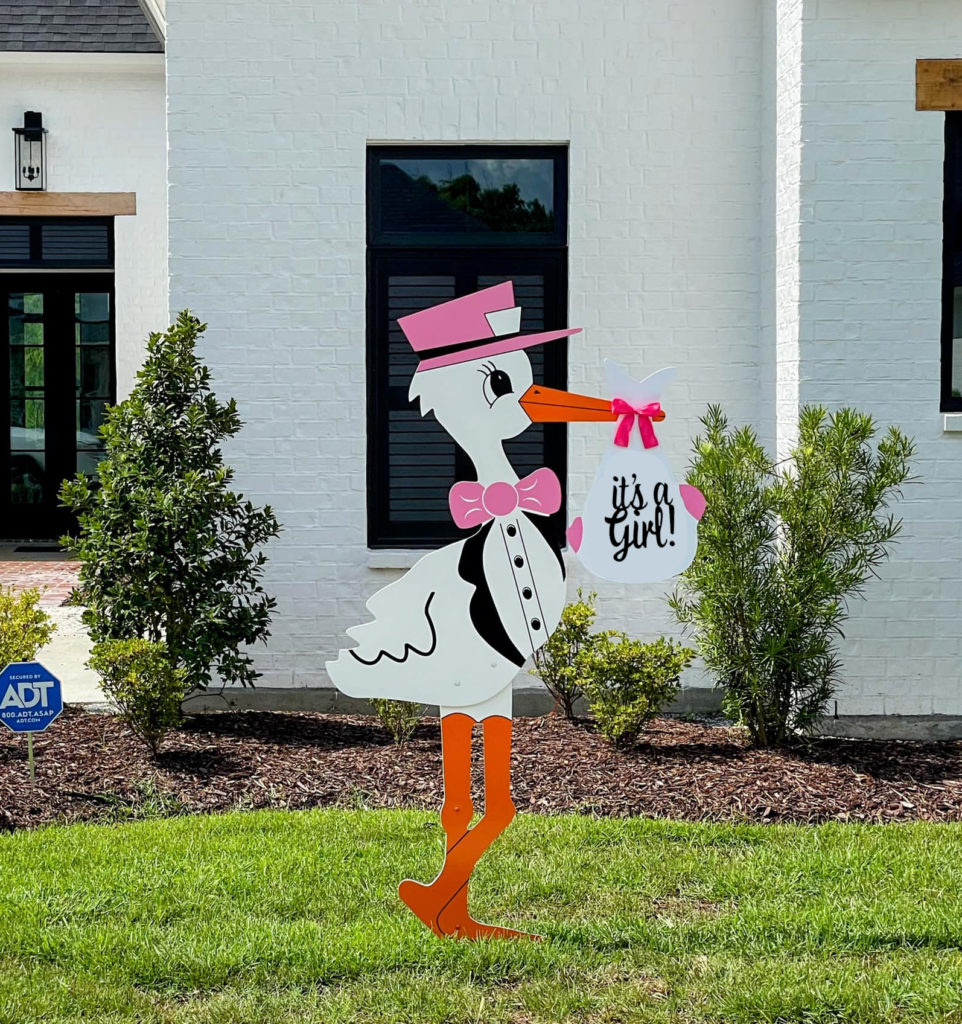 Megan Joshua
The sign was perfect, service was great. Thank you, Storks of Michigan!
Serving Oakland County -Commerce, Farmington Hills, Farmington, Lyon Township, New Hudson, Novi, South Lyon, Walled Lake, Wixom, Livingston County – Howell, Brighton, Washtenaw County – Ann Arbor, Salem, Wayne -Livonia, Northville, Plymouth